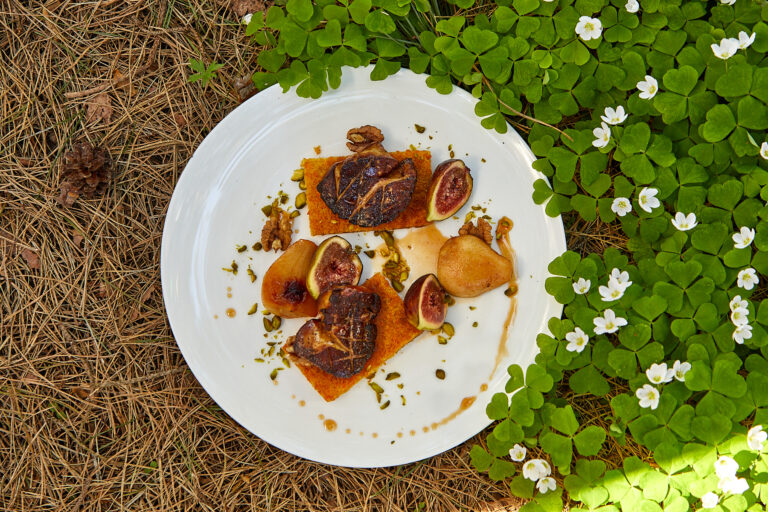 Ingredients
Foie Gras
Goose or duck lard
Pear
Mead
Walnuts and pistachios
Date cake: Chopped dates
Water
Soda
Soft butter
Egg
Flour
Baking powder
Recipe
Preparation:
Put the chopped dates into a saucepan, pour 250 ml of water and bring to a boil. Add one teaspoon of baking soda, mix everything and put aside to cool down. In a bowl, mix 125g of butter for a fluffy mass. Add one egg and the cooled date (along with the liquid). Sieve 185g of flour with baking powder and add into the mixture. Mix everything thoroughly with a spoon. Put the dough into a mold and bake it for about 40 minutes at 180 ºC.
Foie gras – take the liver out of the fridge 5 minutes before frying. Cut into slices with a minimum thickness of 1.5 to 2 cm. Fry in goose or duck lard for 2-3 minutes on both sides, until they are golden brown.
Wash the pears, peel and slice, removing the seeds. Briefly fry the fruit in the mead heated in a pan.
Put the foie gras on the pieces of the date dough, decorate with pear and chopped walnuts and pistachios.
We also recommend other recipes