Goose leg configured in goose fat, served with butter potato cooked in butter-vegetable emulsion with parsley and fried borows on milk with garlic, shalloter and wine
Goose fat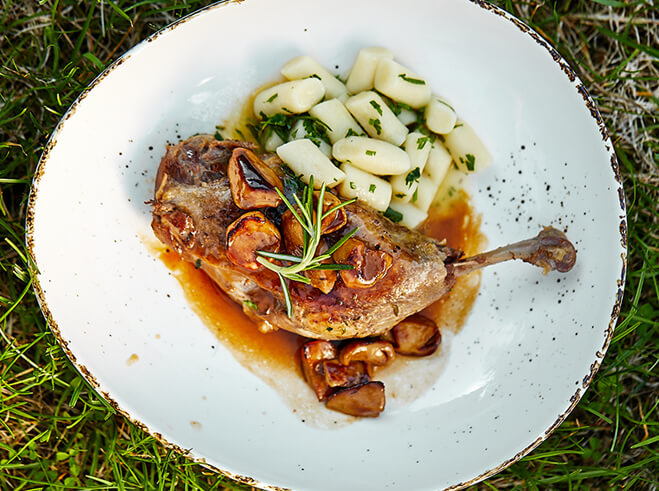 Ingredients
1 goose leg
Goose fat
Butter
Boletus
Garlic
Shallots
Madeira wine
Parsley
BUTTER DUMPLINGS:
Potatoes (approx. 1 kg)
Wheat flour
Butter
Salt
Potato flour
2 - 3 eggs
Recipe
Preparation:
Goose leg:
Rub the goose leg with goose lard and confit it in the oven at 86 degrees for 12 hours.
Buttery dumplings:
Boil the potatoes in salted water, add butter to the cooked potatoes. Wait for it to dissolve. Then pass it through the press. Put on the pastry board, add eggs, flour, salt and pepper. Knead the dough thoroughly. Form rollers and cut them at an angle. Then cook them in a butter and vegetable emulsion.
Butter and vegetable emulsion:
Cook a classic vegetable broth. Add the butter to the broth and wait until it becomes an emulsion (butter 1: 1 vegetable stock). Add the parsley to the emulsion. Cook the potato dumplings in it.
Boletus: Fry the boletus in butter with garlic, shallots and Madeira wine. Place a leg on a plate. Garnish her with boletus. Put the hooves next to it. Sprinkle with parsley. Enjoy your meal!
We also recommend other recipes