Duck leg confited in duck fat, served with antonna puree with cinnamon, plum stewed in red wine
Duck fat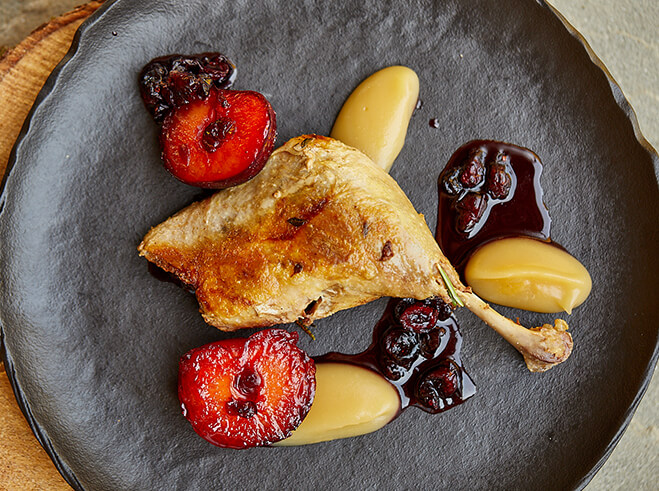 Ingredients
1 duck leg
Duck fat
4 large antonovka fruit
1 plum (preferably green leaf variety)
Red wine
Cinnamon
Rosemary
Anise
Sugar
Recipe
Preparation:
Prepare the duck leg.
Rub it with duck fat.
Confit in duck fat. In the oven at 76 degrees for 8 hours. Such temperature and time will allow for the excellent taste and aroma of the meat.
In the meantime, prepare the antonovka puree. Slice the peeled apples and roast them in a saucepan with sugar. Roasted, blend until smooth with cinnamon.
Cut the plum in half and fry in red wine, rosemary and anise.
Put a duck's leg on a plate, garnish it with applesauce. Place the plum cooked in wine next to it and pour the sauce over the leg. Enjoy your meal!
We also recommend other recipes