Slow-cooked beef served with roasted brocula with thyme, caramelized carrot and mushrooms
Duck fat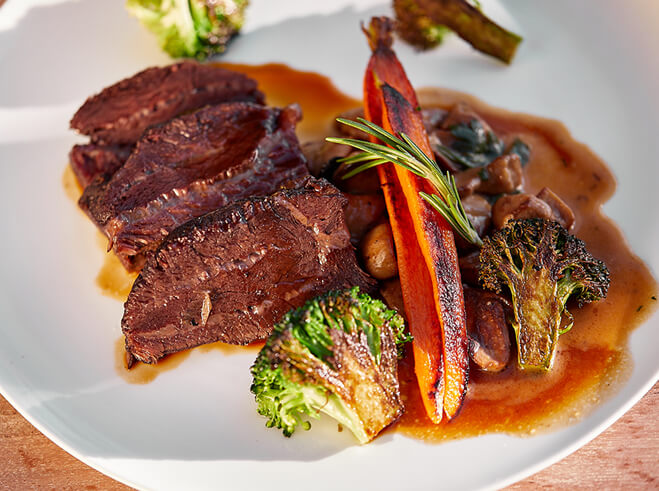 Ingredients
Beef cheeks
Duck lard
Broccoli
Carrot
Boletus
Thyme
Sugar
MEAT MARINADE:
Red wine (eg Porto)
Celery
Carrot
Parsley
Garlic
Fresh rosemary
2 sticks of cinnamon
Anise
Salt
Black grained pepper
Honeydew honey
Recipe
Preparation:
Prepare the beef cheeks. Put them in brine for 8 hours.
Prepare the meat marinade. Put the meat in for 24 hours and set aside in the fridge.
The next day, cook the cheeks with duck fat at 86 degrees for 12 hours.
Cook the broccoli and then heat it. Sprinkle with thyme.
Caramelize the carrots completely in the pan.
Fry the porcini mushrooms in a pan.
Arrange the cheeks on a plate, garnish with broccoli, caramelized carrots and fresh rosemary. Enjoy your meal!
We also recommend other recipes